---
David Lardi
About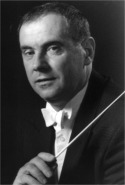 David Lardi is Musical Director of both Finchley Chamber Choir and Finchley Chamber Orchestra. Born in Manchester, David studied at Trinity College of Music in London and was subsequently a Professor there for over 20 years.
He also studied for two years with Franco Ferrara at the Accademia Musicale, Siena, where he was awarded the Diploma di Merito. He has conducted all over England as well as in Italy, Germany and the Czech Republic, working with many different orchestras and choirs, and some of today's leading soloists.
David also conducts the North London Symphony Orchestra. He has conducted on ITV and recorded for the BBC, LWT and Italian Radio, and has an extensive repertoire of over 1,000 works. His broadcasts include BBC R4 and R3 where he has been interviewed by Petroc Trelawney.