---
Miwako Miki
Info
Role: Pianist
Performances with FSO:
About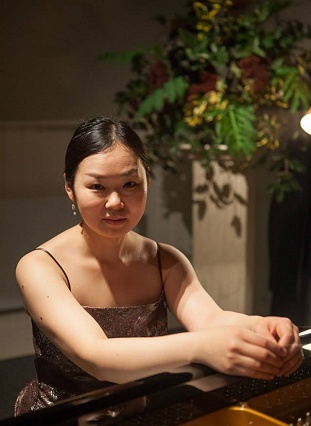 Miwako Miki was born in Japan in 1985 and gave her first public performance in Kansas City (USA) at the age of seven. She went on to win third prize in the Chiba Piano Competition in Japan, and first prize at the Student Music Concours of Japan, which is one of the country's biggest competitions for young musicians.
Miwako has performed throughout Japan, in the USA and in Europe. She has studied with Toshiko Katsutani, Haruko Kasama, Katsumi Ueda and Kei Ito and received guidance from Gilead Mishory, Bruno Rigutto, Vladimir Tropp, Nina Sereda, Philippe Giusiano, Michel Béroff, Nelson Goerner, Jean-Efflam Bavouzet and Simon Trpcheski.
From 2003 to 2007, Miwako went to the Mozarteum Summer Academy in Salzburg, where she studied with Professor Frank Wibaut. Having completed her undergraduate studies at the Geidai, Tokyo's National University of Fine Arts and Music, Miwako moved to London to continue her studies privately with Professor Wibaut, and she recently obtained a Distinction in her Master's degree at the Royal Northern College of Music under his tutelage. In 2009, she won prizes in the Norah Sande Award Piano Competition in Eastbourne and the President's Prize Competition of the North London Festival, where she was awarded the Premier Challenge Cup; and in 2010 she won second prize in the North London Festival's prestigious Emanuel Trophy Competition, which is open only to the top prizewinners of other UK music festivals. Soon afterwards, Miwako was awarded an Honorary Fellowship from the London College of Music after giving a private recital at Fairlight Hall in Hastings. Following these successes, she has received many invitations to perform in the UK and in Japan, including broadcasting live on BBC Radio 3's "In Tune", and a full evening's performance at the Bemrose Bursary Recital.
In March 2010, Miwako won first prize in the Hastings International Piano Concerto Competition with a performance of Tchaikovsky's First Piano Concerto. As many of our audience will be aware, Finchley Chamber Orchestra has regularly hosted autumn concerts for Hastings Festival prizewinners, and in November of that year Miwako joined us in Finchley to play Liszt's First Piano Concerto.
We were delighted to have Miwako join us again to play Beethoven's Third Piano Concerto in 2014.