---
Hannah Sloane
About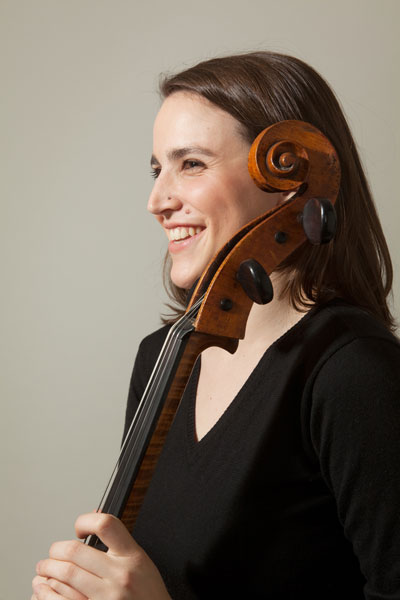 Hannah enjoys an eclectic career which oscillates between chamber music, orchestral work, solo playing and teaching. As the cellist of the Eusebius Quartet, Hannah has performed extensively in the UK. Most recently the quartet was in residence at the Lewes Chamber Music Festival and FitzFest, and have appeared at venues such as St James's Piccadilly, the Foundling Museum and Blackheath Halls. Future plans include a residency at the Wye Valley Chamber Music Festival and at Bard Music West in San Francisco.
Hannah has worked as guest principal cello with the Irish Chamber Orchestra and the Italian orchestra, Spira Mirabilis. She also plays regularly with the London Chamber Orchestra and English Chamber Orchestra. Hannah graduated from The Juilliard School in New York in 2013. In 2012, she was the recipient of a French American Exchange Grant from the Carla Bruni Sarkozy Foundation, which took her to study at the Paris Conservatoire. Her principal teachers were Carey Beth Hockett, Robert Max, Darrett Adkins and Joel Krosnick.
An avid chamber musician, she has participated in Thy, Domaine Forget, Lewes, Wye, Taos and Kneisel Hall Chamber Music Festivals. Hannah has performed as a soloist with the Blackheath, Haydon, Lambeth and Juilliard Orchestras. With the Juilliard Orchestra in 2009, she performed Tan Dun's Concerto for Six with the composer at Alice Tully Hall. Hannah retains musical links with the USA, and regularly performs recitals in Boston, San Francisco, New York and Santa Fe with pianists Allegra Chapman and Jillian Zack.
Hannah teaches the cello at Alleyn's School, Dulwich College and Junior Royal Academy of Music. She is very grateful to play an Antonio Piattilini cello dating c.1750, which is kindly on loan to her from the Stark family.